find the Perfect Places to ski in Sault Ste. Marie
By Tourism Sault Ste. Marie
Sault Ste. Marie is home to some of the best skiing east of the Rockies, including Alpine, Nordic and Backcountry. We offer a true winter experience in the beautiful backdrop of Northern Ontario wilderness. Like other outdoor adventures in Sault Ste. Marie, you can expect scenic vistas, glacier-scoured hills, ancient forests and — most importantly — truly monumental snowfall. Our stunning landscape is what makes the region so special as a place to ski in Ontario. Here's how to get the most out your skiing trip in Sault Ste. Marie.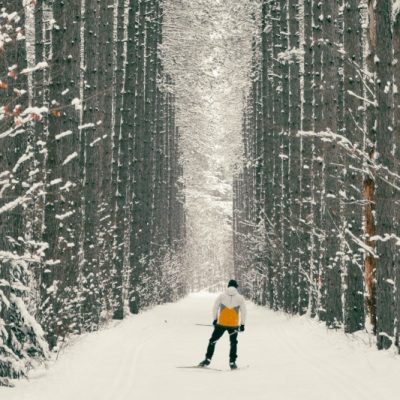 Big vertical, rugged terrain, Searchmont has some of the best downhill skiing in Ontario.
On top of the 700 feet of vertical, 26 runs, 100 acres of rolling mountain, terrain park, 4 lifts, snow school, Searchmont is also a fully equipped resort with a restaurant, bar, shop, ski and snowboard rentals and accommodations. Escape the crowds and the lift queues of jam-packed southern Ontario ski hills and get away to this stunning, adventure-packed mountain.
This season Searchmont is opening up a new section of the hill complete with its own new lift, Buzzsaw. This new section is perfect for intermediate skiers just before they take on the big hill. Visit the Searchmont's website for more information. 
Click here for a link to all trail and maps.
No.2 - Cross-Country Skiing at Stokely Creek Lodge
It's not an exaggeration to say that Stokely Creek is world class. A short 30-minute drive from the city this stunning venue draws visitors from all over the world. This amazing Ontario cross-country ski destination garners rave reviews and ranks among the best in North America.
There are over 100 km of trails for classic and skate-skiing techniques. Stokely earns its credibility with breathtaking scenery, including frozen waterfalls, endless forests and the amazing vista from the top of King Mountain.
Backcountry cabins and rest stops are spread out along the way, enhancing the resort's wilderness feel. You'll appreciate warm shelter while skiing Stokely. Better yet, make it a weekend (or stay for a week): The lodge boasts Scandinavian-style accommodations and outstanding home-cooked meals..
Parking and trailhead is at Stokely Creek Lodge, in Goulais River Ontario.
Click here for a link to all trail and maps or read more about Stokely here!
No.3 - Cross-Country Skiing at Hiawatha Highlands
Hiawatha Highlands offers more than 50 km of varying levels of cross country skiing trail on professionally machine groomed trails for both classic and skate skiing. Parking and trailheads are located on Landslide Road, located just a few minutes drive of the city. Hiawatha easily ranks among the best places to go cross-country skiing in Ontario. 
There are three main skiing trail systems to explore, each with different terrain and elevation. The Pinder System features minimal hills and gentle grades which make it suitable for all skill levels. The main 4 km route has an additional 6 km of extensions including the open Mockingbird extension with picturesque views of neighbouring farms. A lighted 2 km loop near the trailhead means you can ski until around 10 pm.
The Red Pine system, a favourite of many locals, is a little more rugged with steeper hills making it more advanced and technical trail with several side extensions, creek crossings and towering red- and white pines.
Finally, the Crystal Trail system is the most challenging. Trails weave around Crystal Creek and alongside waterfalls, with steep descents and heart-pounding climbs. It's a great test for the advanced skier. Along with a rugged 10 km backcountry ski trail to Mabel Lake, the Crystal features more than 20 km of trails to sink your teeth into.
Click here for a link to all trail and maps or read more about all that Hiawatha Highlands has to offer here!
No.4 - Backcountry Skiing at Bellevue Valley Lodge
Sault Ste. Marie is one of Ontario's premier destinations for backcountry skiing. Your starting point is Bellevue Valley Lodge, set in the massive Canadian Shield hills of Goulais River, a 25-minute drive from the city.
Explore the extensive beauty of the area with backcountry telemark, alpine touring or nordic skiing. Ski up the impressive ridges and mountains of the Canadian Shield at 1800 ft above sea level, and explore 30 gladed powder runs with about 700 feet of vertical. With no chair lifts you'll have to bring your climbing skins to earn your turns.
Runs include the formidably named Undertaker, Overtaker, Vortex of Pain and the Pyramid. Steep fall lines combine with incredible snowfall to make Sault Ste. Marie a fantastic place to powder ski. This is unquestionably the best backcountry skiing in Ontario!
Click here for a link to the trail maps.