Discover Métis History in Sault Ste. Marie
Where Fort Creek enters the St. Marys River just below the historic locks at Sault Ste. Marie Canal National Historic Site, it's a shallow channel scarcely broad enough to turn a canoe around. Bridged by boulevards and hemmed by sidewalks and parking lots, the creek disappears altogether for much of its course, buried and nearly forgotten beneath the city above.
On a warm spring evening, I witness a very different Fort Creek, winding through a verdant wetland filled with the sunset songs of veery, Swainson's thrush and ovenbirds. A contented beaver navigates the meanders, watchful Canada Geese periscope from grassy banks. Perched above downtown, Fort Creek Conservation Area is a remarkable green space within the city.
The way Lake Superior Watershed Conservancy Executive Director, Joanie McGuffin, explains it, Fort Creek is both a living waterway and an allegory for the unseen connections that bind past to present, and culture to ecology.
Revealing hidden connections—between rivers, lakes, watersheds, communities, cultures, people and the planet—is the focus of a new visitor experience developed by the Lake Superior Watershed Conservancy in partnership with the Huron-Superior Regional Metis Community.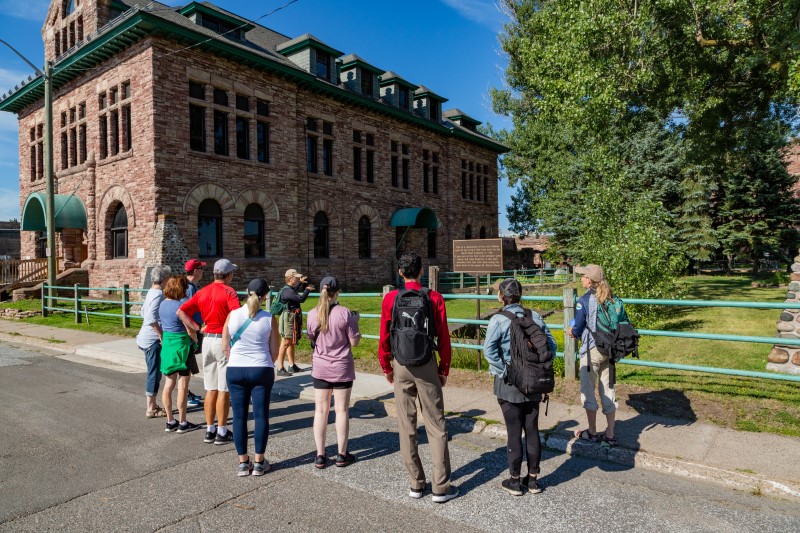 These interpretive tours provide visitors to Sault Ste. Marie with an exciting new way to discover the city, while making meaningful connections to the Soo's vibrant Indigenous culture and heritage. Historic images, maps and hands-on materials add texture and context, transforming a modern cityscape into an historic gathering place, and an industrialized urban waterfront into a richly interconnected ecosystem.
For generations, the land that is now downtown Sault Ste. Marie was home to a thriving Métis community. The community was organized into river-lots that gave each family access to the river for travel, harvesting and economic activity. Families kept their animals communally in the area behind their homes and harvested maple sugar in spring along the escarpment. In the mid 1850s, Métis families were displaced from their lands, breaking promises by the Crown agent that their lands would be protected. Despite this injustice, the community continues to call Sault Ste. Marie home.
By sharing Métis perspectives on reciprocity and sustainable practices, the interpretive tours also advance the Lake Superior Watershed Conservancy's work to promote watershed awareness and greater environmental understanding.
"The Métis story inextricably connects culture with ecology," says McGuffin. "Indigenous people have been able to live with the land and care for our water for thousands of years, because it's been a reciprocal relationship."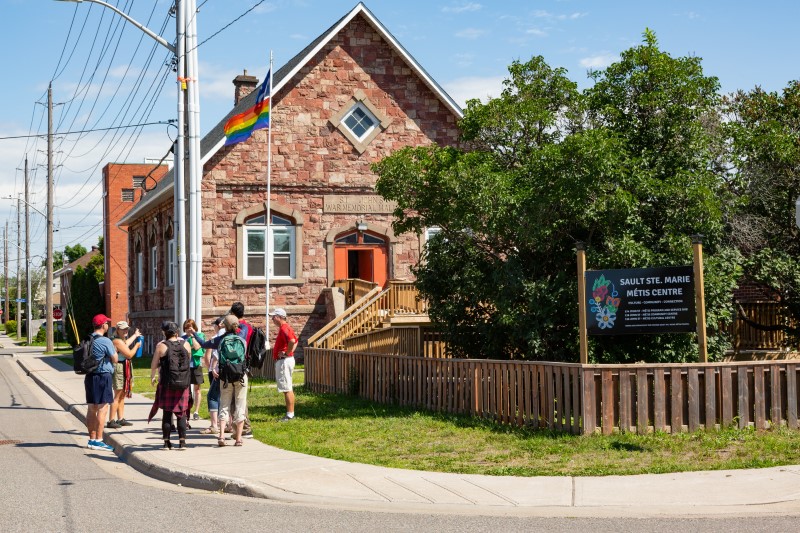 Walking Tour or Walking and Paddling Tour
Tour participants can choose to join a Walking Tour or get on the water with a Walking & Paddling Tour. Both tours travel to the city's scenic waterfront from the Sault Ste. Marie Métis Cultural Centre—a first of its kind in Ontario. Tours last two hours and are led by a Métis interpretive guide, giving visitors a fascinating glimpse into traditional and contemporary Métis life.
Paddling Tour participants board a Big Canoe—a replica of the 36-foot birch-bark canoes that once freighted furs and trade goods between Montreal and Lake Superior—to learn how the St. Marys River is central to both the story of Sault Ste. Marie, and the Indigenous communities who live here.
McGuffin believes passionately in the power of the Big Canoe to bring people together to share ideas and cultural understanding. In 2019, the Conservancy founded a new program called Canoes for Conservation, and she points to the Big Canoe's stability, inclusivity and accessibility for non-paddlers and multi-generational groups of all ages.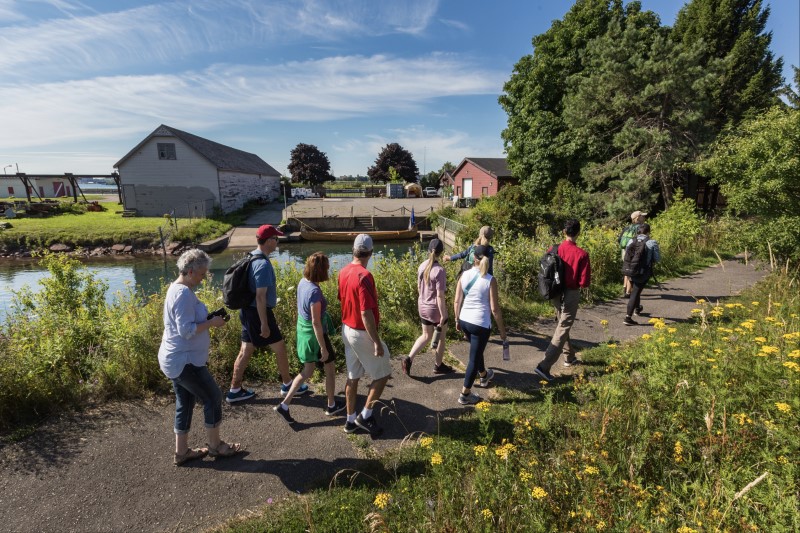 A highlight of the hour-long canoe portion of the journey is "locking through" the historic Sault Canal. Paddlers then venture onto the mighty St. Marys River—comparable in size and power to the Niagara River—feeling the spray of the rapids and the tug of the current beneath their hull. "It's very tactile," says McGuffin, "you have a paddle in your hands, you're able to feel the water, listen to the water. It's incredible how far into the rapids you can go—people are amazed by the experience."
For the Métis Nation of Ontario, the tours are "an outstanding opportunity to grow Indigenous tourism in the north and advance reconciliation," says community leader, historian and MNO Huron-Superior Regional Councillor, Mitch Case.
"In order to have that reconciliation conversation, Canadians need to understand who we are and what matters to us as a community," he continues. By connecting across cultures, "we are protecting and preserving our unique heritage and world view."
Lauren Towell is one of five young Métis community members who joined the interpretive guide team this summer. "The connections I share with the water resonate profoundly with the very fabric of my Métis heritage," she says. "I take great pride in the task of sharing our story, ensuring that it endures for generations to come."
Walking tour guide, Jake Chalmers, agrees, "Caring for our forests and wildlife is integral to caring for our Métis culture. Being a tour guide helps me to celebrate and share knowledge about both."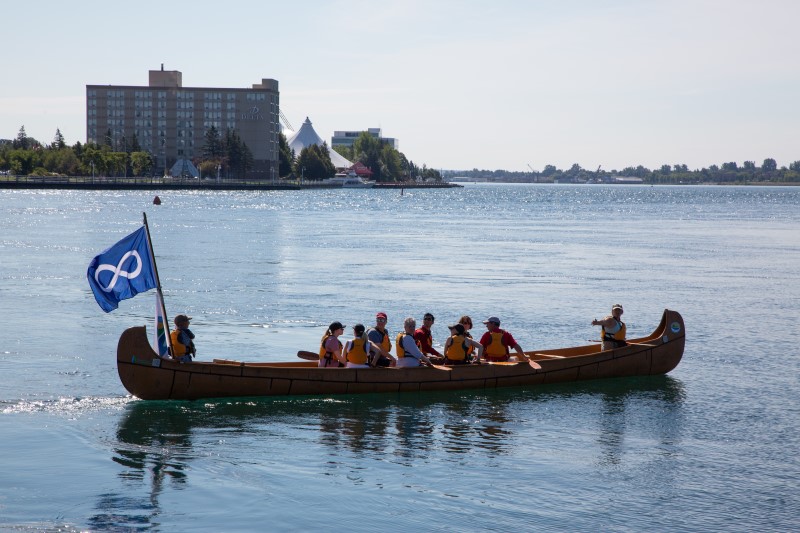 Sault Ste. Marie Canal National Historic
The tours visit numerous sites of great importance to the Métis community. In just a couple short hours, participants come to understand how connection to the river and love for their ancestors empowers the Métis community here—and what it can teach all of us.
For those visiting the city for the first time, the interpretive tours are also a great way to discover the Soo's top scenic and cultural attractions.
As we stroll towards the river and the leafy promenades of Parks Canada's Sault Ste. Marie Canal National Historic Site, McGuffin and I pass the Agawa Canyon Tour Train Station and Algoma Conservatory of Music. Housed in a refurbished, century-old sandstone building of the former St. Marys Paper Mill, The Loft is reported to have acoustics rivaling Massey Hall.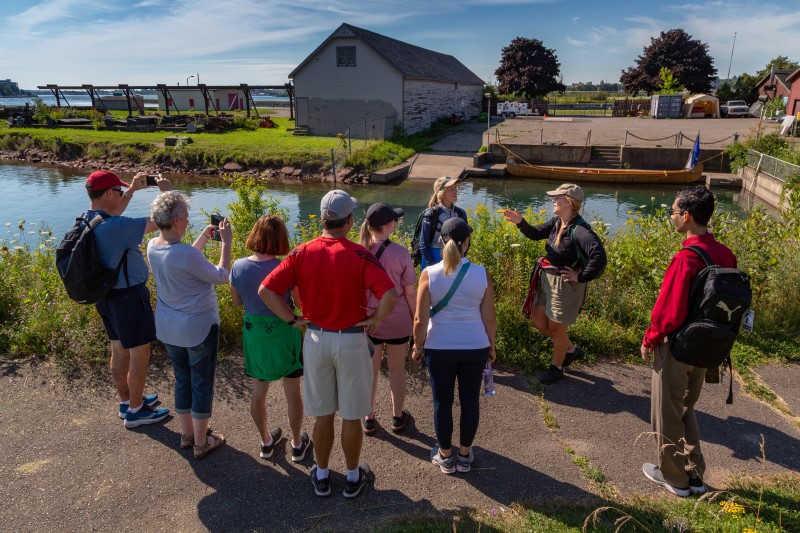 Outside, we see a re-creation of the rudimentary locks the voyageurs used to shuttle their Big Canoes around the Whitefish Rapids. Nearby, the weekly Mill Market hosts local food vendors and artisans where a Hudson's Bay Company Post once stood.
As we walk, McGuffin tells me about the hidden river, where Fort Creek flows unseen beneath the city. She relates how downtown Sault Ste. Marie, from Bay Street to the river, is built entirely on reclaimed shoreline. "It's not just about what we can see, it's also what we can't see," she says. "When we don't look at where water comes from and where it goes, we feel no responsibility for what happens along its journey."
Before returning to the Métis Cultural Centre, we pause at the mouth of Fort Creek, marveling at the resilience and tenacity of water. The story of a people can be like a river that way—sometimes unseen, but always flowing steady and strong.
PLAN YOUR VISIT - TOUR DATES & PRICING​
Friday and Saturday mornings at 10:30 a.m.
Available late June–late September
Tours are 2 hours/5 km in duration
Cost is $50/adult or $25/student, group rate (max. 10 people) $350
Guided Walking & Paddling Tour
Thursday, Friday and Saturday evenings at 5 p.m.
Available late June–late September
Tours are 2 hours/7 km in duration
Cost is $90/adult or $45/student, group rate (max. 12 people) $675
All paddling safety equipment is included
Other things to DO in Sault Ste. Marie
Celebrate the 20th anniversary of the Supreme Court decision acknowledging the Metis Nation as a distinct Indigenous culture in Canada with a visit to the newly opened Métis Cultural Centre at 136 John Street.